OK, who likes to talk about themselves?
The history of Front Porch Quilts began in 1987 when I decided to make a quilt as a Christmas present for David, the man I eventually married.
I bought the Irish Chain in a Day book by Eleanor Burns.
It took me six months to make the quilt, and six years to marry the man and be reunited with that first quilt again!
Since then I have made many quilts year after year.
I love fabric and trying new designs.
As my skill and confidence grew, I began putting my own twist on the original patterns, making no two quilts alike.
Because I gave most of these quilts as gifts, many people have seen and loved my quilts, and then commissioned me to make quilts specifically for them.
One of these ladies suggested I should teach others to quilt.
Excited by the thought of helping others to learn the art of quilting, I started teaching an evening community education class at a local public school.
Four years later I moved the classes to my home as I began designing my own quilts and teaching them to my students.
They enjoyed the designs, colors and ease of construction.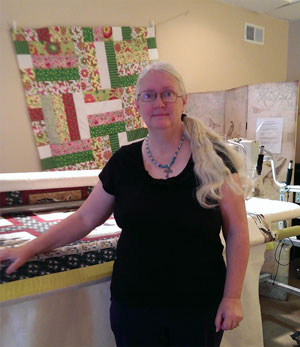 All this has led to what you see on our site today.
I have published my first pattern and have more in the works.
I now have a shop! and it is a fantastic place to come and be inspired.
So my words of advice are to "Dream BIG".
It takes only one step at a time to build your dream.
All this was a dream that began years ago.
Whew, that's done.

~ Martha Butch